Meet The New Co-Creative Director Melanie McFarland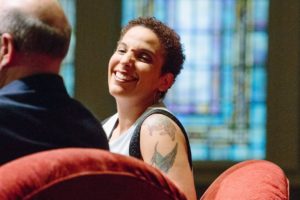 Join us in welcoming Salon TV critic Melanie McFarland to Split Screens Festival as a Co-Creative Director!
Follow Melanie on Twitter at @McTelevision and read her work on Salon.com.
McFarland grew up in a household where television viewing was strictly limited — the only parent-approved programming was anything aired on PBS. This included the infamous classic "I, Claudius," which she watched in all its crazy, full-frontal glory with her very Catholic family. It was educational, they said. It also twisted her very young brain.
Oddly enough, her mother said absolutely nothing about whether watching television at other people's houses was off-limits. As a result of many wasted after-school hours gawking at MTV and other boob tube delights on the living room floors of relative strangers, McFarland would eventually build a career out of watching and thinking critically about the television medium in all of its variety, wonder and horror.
McFarland has been Salon.com's TV critic since 2016. Prior to joining Salon, she was IMDb's first TV Editor, where she curated television content, served as the approved spokesperson on all things TV-related for the site, and hosted the TV-centric episodes of the site's first original web series "What to Watch."
As the TV critic for the Seattle Post-Intelligencer between 2003 and 2008, McFarland forged a reputation as one of the country's keenest commentators on television and other media, serving on the 2004 and 2005 juries that selected the American Film Institute's 10 Most Outstanding TV Programs of the Year. McFarland also served on the Board of the George Foster Peabody Awards between 2006 and 2012. She has also lent her expert commentary to a variety of media outlets, including NPR, CNN, American Public Media, and the BBC. She has been a member of the Television Critics Association since 2003 and currently serves on the executive board as the organization's secretary.
Additionally, McFarland's work has appeared in the Seattle Times, RollingStone.com, The Oregonian, the Chicago Tribune, Geekwire, Rotten Tomatoes and Variety. Her work is included in the upcoming anthology "The Women of David Lynch," due out June 11. She is based in Seattle, WA.