Tune In to our Talk with Today's TV Critics
Hot takes and think pieces and recaps, oh my!
As the medium of television has evolved throughout the years, so have those charged with writing about it. Join us for a panel with three of today's leading TV critics whose work has appeared in Variety, The New Yorker, The Atlantic, RogerEbert.com, Vulture, New York Magazine and beyond.
We'll discuss where we've been, where we are now and where we're headed.  SPOILER ALERT: it's going to be great.  Buy tickets.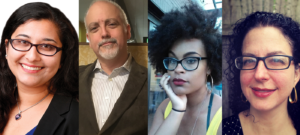 In attendance: Angelica Jade Bastién, Vulture and The Atlantic contributor; Emily Nussbaum, The New Yorker; Sonia Saraiya, Variety; Matt Zoller Seitz, New York Magazine and RogertEbert.com